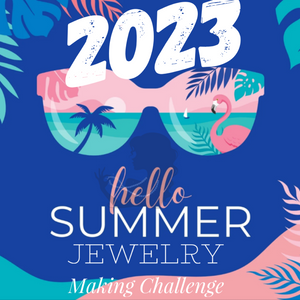 Saturday, June 10th-Saturday, July 29th
Get ready to unleash your creativity and make some stunning jewelry with our Summer Jewelry Making Challenge! It's a fantastic opportunity for you to have fun and win amazing rewards! 
Program open to all ages!
Here's how it works:
Beginning Saturday, June 10th, visit the store to pick up your welcome packet!
In it you will find:
A challenge card to help you track your jewelry making time this summer, & a jewelry makers badge for you to decorate for the progress wall to represent your achievements throughout the summer
Decorate your badge and be sure to put your name and last initial on it so it will be ready to bring back when it's time to get your first stamp! 
Start the clock and begin creating some beautiful jewelry pieces.  Don't forget to log your time on the time tracking section of your challenge card! 
Earn stamps on your challenge card for every two hours you spend making jewelry.  This does not have to be in one continuous sitting, just track your times and cumulative time will determine the number of stamps received. 
Collect stamps to help you move your badge along the wall and unlock fabulous beading rewards.
For more details and program updates, visit our website or stop by the store any time!
Summer Jewelry Making Challenge ends Saturday July 29th with a huge pizza party to celebrate for all participants beginning at 12pm (Don't forget to RSVP for this one so we know how much pizza to order!)
Happy beading!