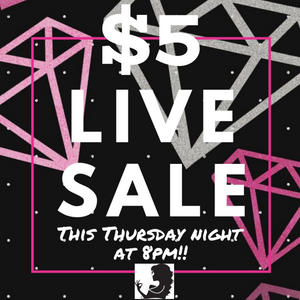 Join us this Thursday 8/3/23 at 8pm for a fabulous Facebook live sale!
We've got some great deals planned for you on our $5 Facebook live sale this week!
EVERYTHING IN THE VIDEO IS ONLY $5!!
And you don't have to have a Facebook account to participate! Just jot down any numbers of the items you are interested in and send them to us via email, stop by in person with them, or call them in over the phone!
But keep in mind, the deals are only good until end of day Wednesday 8/9/23, so you better act quick!
Everything you see in the video is only $5 and many items have multiple quantities available, so even if someone else already claimed it, feel free to claim it for yourself too and we will fill orders until everything is gone!
And if you miss the live, no worries!
You can watch the replay as many times as you want!
Also, if you'd like to see the items in person, feel free to stop by the shop any time starting Friday morning and continuing through end of day Wednesday to see the loot for yourself~the tables are set up right by the front door!
And yes, WE SHIP!
Don't forget~
Payment must be submitted by end of day Wednesday 8/9/23 in order to get the deals then everything goes back to regular price! Payment can be made in person, with a card over the phone, or via paypal, or venmo.
Enjoy, and don't forget to tell a friend!